Ms. Ernie D. Shelby
Aka
Lady Sax®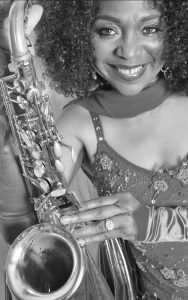 Gary, Indiana Native
Musician, Vocalist, Songwriter, Voice Over Artist
Former Miss Black Expo Indiana
Owner of Dimples Music Company
Owner of Ernie D. Shelby Accounting Services
♫  Sax Girls Rock!: Face Book  Administrator
Founder of SIS (Sisters in Song)
"Women of the Arts: Qualified & Worthy of Respect"
****Her Productions and Events*****
Playwright of the musical "Why I Do What I Do".
Executive Producer, Playwright, Composer, Musical and Stage Director of Sheation 1-2:22 "It's Not All Eve's Fault"; Chicago Premier December, 2010:Gary, Indiana Premier June, 2011
A Sunday Kind of Love: Domestic Violence Awareness Concert, 2015
Unforgettable : A Tribute to Natalie Cole, 2016
****Her Performances*****
Appeared with the Barrett Sisters, Vickie Winans, Jerry Butler, Freddie Jackson, Tina Marie, Patti Labelle, Roger and Zapp, Freddie Jackson, Little Milton, Mel Waiters, Wayman Tisdale, Nikki Giovanni, Terisa Griffin (The Voice Finalist) and many others
Appeared with Divas of Motown on the Royal Caribbean Cruise Line
Obama Inauguration (Unofficial) Ball. State of Maryland
National Anthem for Minor League Baseball and Basketball Games
Montego Bay Jamaica, Las Vegas (Wedding chapels), Toronto Canada, Rio de Janeiro, Brazil, US Cities & States including Philadelphia, New York, Chicago, Memphis, TN; Milwaukee, WS; Louisville, KY; Indianapolis, IN and the entire Chicago land region.
****Satisfied Clients*****
City of Gary, Honorable Mayors: Richard Gordon Hatcher, Thomas Barnes, and Rudolph Clay, Gary Community School Corporation, Gary Chamber of Commerce, Gary Civic Choral, The Reading Council, Village of Bellwood, IL
Soul Satisfaction Entertainment Company, London, England
Friends of Lower North, Brookhaven Mississippi Association
Certified Wedding Planner, Hue Deggans; All My Tables, Brenda Boyd
Illinois Department of Public Assistants, Cook County Board Association of Spouses of Judges and Attorneys
Post 2024 Veterans of Foreign Wars
New Day Foundation, Sojourner Truth House, MOTTEP, Sistahs Strong, Carrolton Lake Seniors Club, Gary Civic Chorale
Eta Phi Beta Sorority, Sigma Gamma Rho Sorority ; Alpha Sigma Sigma Chapter – Sigma Gamma Rho Sorority, Inc
Fashion Shows for Queen Toppin Productions, Ms. Elle's Boutique, Alberta Rose Boutique
New Revelation MB Church, Midwest Baptist, Christ Temple of Holiness (USA),Trinity Missionary Baptist, Gospel Truth Apostolic Ministry, Witherspoon Presbyterian, New Ebenezer MB Church, Christ United Methodist, Waukegan Community Church, Mt. Sinai (North Chicago, IL), Unity Baptist, Israel CME, St. James AME, First AME, Tabernacle of Praise Ministry, Bethel Temple COGIC, Deliverance Temple COGIC
DuSable Museum of African American History, Chicago, IL
Conventions and Conferences: National Association of Licensed Beauticians, Coalition of Black Trade Unionists, National Association of Black Female Entertainers and Media Executives, United States Department of Immigration, NNPA, NAACP (South Chicago, Illinois), NAACP (Peoria , Illinois)Urban League of Northwest Indiana, Indiana Black Expo, Today's Black Woman (Chicago)
Reunion Committees: Roosevelt High and Froebel High School of Gary, IN, Dusable, and Englewood High Schools of Chicago, IL: Rust College Alumni, Gary Tuskegee Alumni Club, Brookhaven Mississippi Club
USWA (Annual Christmas Party), New Hope Baptist (Black History Month)
Clients who have retained me for birthdays, anniversaries, receptions, banquets, memorial services, parades, showers and etc.
****Her Musical Releases*****
"Dimples Co. Presents Lady Sax®"
"Love Songs from Lady Sax®" Sampler
"Songs of My Soul" Sampler
"A Saxy Holiday" Sampler
"Lady Sax® Live" on DVD
"Gone Too Soon" Sampler  Tribute to Michael Jackson
"Unforgettable" A Musical Salute to Natalie Cole
**Life Motto is Psalms 92:10**
 219-887-7SAX or 219-887-7729